adidas Unveils the UEFA Champions League Final Official Match Ball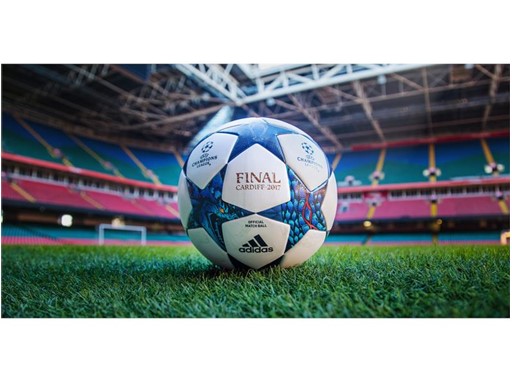 – Ball will be used during the knock-out rounds and final in Cardiff –
– Ball design is inspired by the dragon, the famous national symbol of Wales –
– Dragon inspiration also featured in new limited collection adidas boot range –
Portland, Ore., February 13, 2017 – adidas unveiled today the Official Match Ball to be used during the UEFA Champions League knockout rounds and the June 3rd final in Cardiff.
Celebrating the nation of Wales, which will host this year's final, the ball's unique design features a striking dragon print inspired by the national emblem prominently highlighted on the Welsh flag.
The adidas design team who travelled to Cardiff drew inspiration from the power and strength the dragon represents in Celtic mythology, as it represents the ferocity of play meant to be shown during the final stages of the competition.
The ball also delivers the performance benefits required to match the standard of the competition as it provides optimal grip, while the thermally-bonded star panel design provides a seamless surface for improved first touch.
The adidas Final Cardiff 2017 ball will be used on the field during all UEFA Champions League matches to be played from Feb. 14th through the Jun. 3rd Final.
The dragon design also inspired a new Limited Collection boot range known as Dragon Pack. The latest boot drop features the same design elements, combined with the usual technical innovations. The Dragon Pack consists of both the ACE and X ranges, which are adapted for on-pitch and cage silos.
The Dragon Pack ACE17+ PURECONTROL features the dragon design imagined in a black colorway. Designed for flexibility and control, a 360 degree fully PRIMEKNIT upper ensures zero wear-in time and is protected by an ultra-thin NON STOP GRIP (NSG) film to provide increased levels of grip. adidas' industry-defining BOOST technology is also featured, delivering an unrivalled energy return.
The collection also includes the ACE 17+ PURECONTROL cage version, featuring a PRIMEKNIT upper with a layer of NSG film to provide close ball control. A stretchable layer of TECHFIT material optimizes comfort while a black EVA strip features above the heel's BOOST to offer stability.
The X16 also features the dragon design in a striking white colorway. A coating of NON STOP GRIP (NSG) film gives players unrivalled levels of control, with a SPRINTFRAME outsole offering stability during high-speed changes of direction. A PURECUT SOCK SYSTEM sees laces hidden under an upper layer for a pure first touch.
The X16 cage version, which includes the same NSG, SPRINT FRAME and PURECUT SOCK SYSTEM as the stadium version, features a gum finish on the outside to provide extra protection on the most challenging of surfaces.
contacts
Cristina Maillo Belda

Soccer PR

United States

cristina.maillobelda@externals.adidas.com

971 234 5398

503 915 9129