Baseball's Carlos Correa Joins adidas Group's Mark King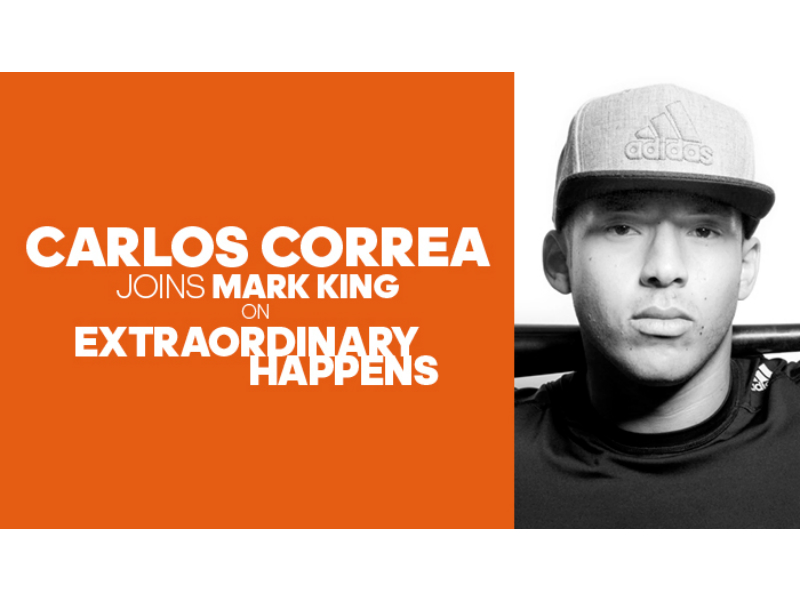 With baseball underway, Houston Astros Shortstop Carlos Correa joins adidas Group's Mark King on his podcast Extraordinary Happens​. At just 21 years old, Carlos is the reigning 2015 Rookie of the Year and posted a record-breaking debut season. He discusses growing up with the sport in Puerto Rico, how setting goals and making sacrifices helped him reach his dream, and the role self-confidence plays in his success.
"Self-confidence is the foundation of all great success. If your confidence is up there all the time – no matter if you're doing bad, if you cannot find your barrel to the ball, if your swing doesn't feel good – your confidence has to be there anyway. I learned that last year. Sometimes I'll be tired, something will hurt, but my mentality is what got me through it." – Carlos Correa
Ep. 9: Carlos Correa on Extraordinary Happens​

"[Carlos] has an ambition and a dream and then he sets these goals and he does the work. He expects success. Success isn't an accident. I don't think you can hope for success. I don't think you can wish for success. I think you have to plan for success. There's no way you can compete in major league baseball at 21-years-old with just a few months of playing minor league baseball unless you have – obviously great skill – but also unbelievable confidence in what you do and how you do it." – Mark King

"Every single morning I would jump out of bed because I had to work toward accomplishing something and that was becoming one of the best players in my draft year, and then eventually when I got drafted, get to the big leagues. I have high expectations, I visualize a lot and I dream a lot. I did the work. I put in the work and I sacrificed a lot in order to make those dreams come true. That's the bottom line. A lot of people dream, but they don't want to pay the price and sacrifice everything you have to sacrifice in order to be successful." – Carlos Correa
Extraordinary Happens: Competing in Sports, Business and Life, hosted by adidas Group's Mark King, is a podcast featuring compelling stories behind the people shaping sports and business today.

contacts
Maria Culp

Corporate Communications

United States

971-234-4003