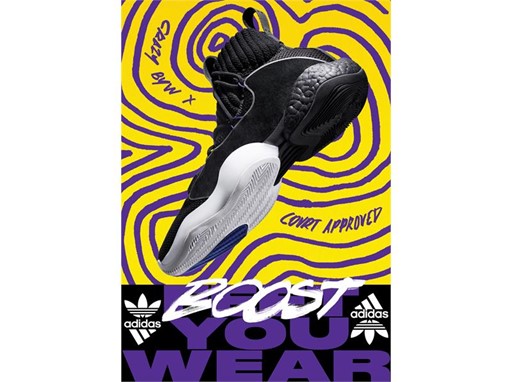 This month sees the trefoil and badge of sport logos together on a basketball silhouette. Taking the best of performance technology and the collective memory of past adidas icons, the Crazy BYW X seamlessly merges the two worlds.
Driven by the same principles that feet you wear was built around in the late '90s, the Crazy BYW X silhouette features a podular BOOST midsole designed to complement the natural movements of the wearer's foot. This, coupled with an full engineered Primeknit™ upper, creates a customized fit that locks the foot into the shoe giving the best platform for the wearer to cut, pivot and dribble their way to the hoop.
The Crazy BYW X shoe is built to stand out on the court, designed for those who pride themselves on being different, on being a creator. The shoe brings style to court and the collective memory of the adidas archive into the present through the podular midsole and progressive design. The partnership between the trefoil and badge of sport is a throwback to an era and a design language unique to adidas - the result is a pure expression of adidas ethos in a strictly basketball context – taking from the past to inform the future.
Global Product Release: February 17th, 2018
contacts
Tessa van Bergen

PR Coordinator

United States

tessa.vanbergen@externals.adidas.com

212 352 6140