IMAGES & VIDEO: adidas Originals | Superstar XENO Silver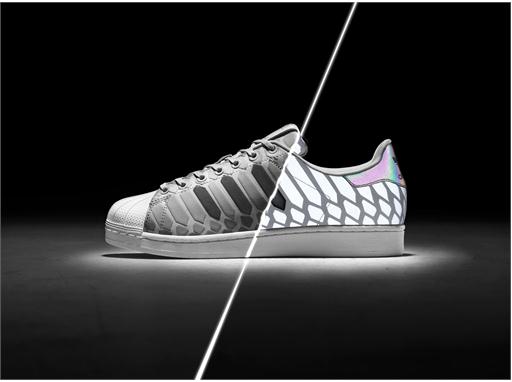 Introducing a new color execution with innovative XENO light responsive technology from adidas Originals – Superstar XENO Silver.

Dropping September 11, the Superstar XENO Silver compliments a re-stock of the original black colorway and will be available at adidas Originals retail stores and [adidas.com/originals]adidas.com/originals, $110.

About XENOIn natural light, the silver material appears faint with deep shimmers of iridescent colors. But with the flash of a camera, the material explodes with bright colors, spanning the entire rainbow spectrum. The material doesn't just reflect one color but changes as the angle of the light shifts. The shoe is completely transformed through the lens of a smart phone camera in both video and photos, appearing at first glance as an optical illusion.

The XENO origin
Inspiration was drawn from the Xenopeltis snake found in Southeast Asia, known for its highly iridescent scales. adidas Originals has a long history of incorporating snake skin patterns into design and materials. But XENO pushes the look to revolutionary heights.
contacts
RaEsa Benjamin Wardle

Sports Style PR

United States

RaEsa.Benjamin-Wardle@adidas.com

212 352 6134

503 348 7367