New Adidas Alphaskin Performance Layer Ditches Distractions to Help Athletes Raise Their Game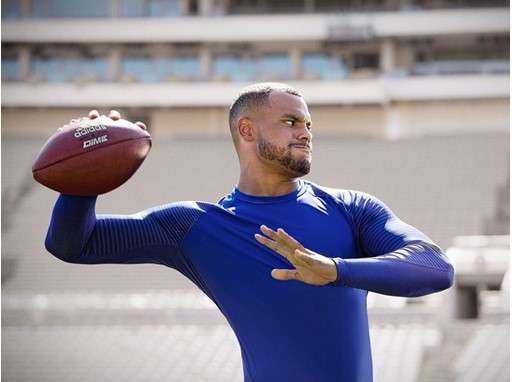 - adidas Alphaskin is wrapped around the moving body to follow the direction of athletes' movements.
- The new design eliminates distracting seams to help athletes focus on their performance in competition and training.
- Alphaskin is available in a range of compression levels to meet the needs of all athletes.
Portland, Ore. Jan. 11, 2017 – adidas today launches Alphaskin, a revolutionizing base layer technology to empower athletes in training and competition.
Unlike traditional base layers, each section of Alphaskin is carefully constructed to match the body's movements in sport. The kinetic wrapped design eliminates unwanted distractions by moving with the critical areas of athletes in motion and removing unnatural friction between the fabric and skin. Alphaskin enables athletes to fully focus and preform in training and competition.
"We're committed to creating only the best for athletes and that's exactly what we've done with the disruptive design of Alphaskin," said Rob Lee, Vice President of design for adidas Training. "After taking a deep dive into athlete movements, needs and culture, we created a performance layer that embraces and incorporates all of those elements. Alphaskin was made to enable and move with athletes' bodies while they compete or train and help eliminate the unwanted distractions of base layers from the past."
Alphaskin was developed using a highly-advanced ARAMIS, a motion-capture system that finds where fabric could inhibit an athlete's performance. This method enabled designers to create a wrapped performance layer that truly dials into the movements of athletes across all sports.
"When I wear Alphaskin it's time for business. It's the only performance layer that matches my focus on the field," said Rookie of the Year, Dak Prescott of the Dallas Cowboys.
"Designed to support, breathe and move with me, Alphaskin tells my body it's time to train," explained Karlie Kloss, supermodel and entrepreneur.
Alphaskin offers kinetic wrapping in a range of compression levels that suit each athlete's personal preference.
ALPHASKIN 360
Alphaskin's highest compression for a locked-in feel.
Flat, bonded reflective seams provide a distraction-free fit.
ALPHASKIN TECH
Mid-level compression for a secure feel.
Sleek design delivers a flattering, supportive fit.
Features Climachill technology to keep athletes super cool and dry.
ALPHASKIN SPORT
Light compression for a supportive feel.
Features Climacool technology, which provides enhanced breathability and cooling zones.
Alphaskin ranges from $25 to $150 and is available now on
adidas.com
, in select adidas stores and in select retailers including DSG, Macy's, Modell's and Academy.
contacts
Kaitlyn Chock

adidas Public Relations

United States

Kaitlyn.chock@externals.adidas.com

971-234-7432