PODCAST: Mississippi State Football Coach Dan Mullen joins adidas Group's Mark King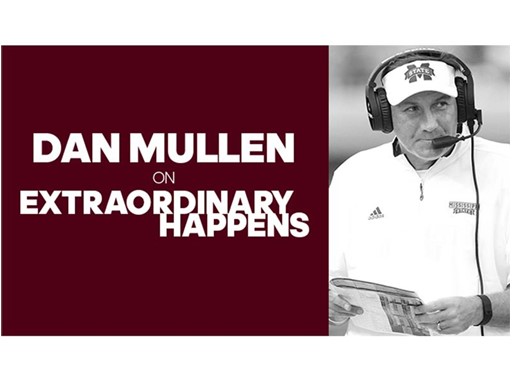 Mississippi State Head Football Coach Dan Mullen joins adidas Group's Mark King on his podcast Extraordinary Happens. Just two days ahead of his eighth season with the Bulldogs, Dan shared the winning mentality that has led him and his team to success.

​

"The key to success is not that arrival. It's the journey itself. You don't just arrive at success, because if you do, you have no idea how to stay there or how you got there and how to continue to be successful. All the lessons you learn on your journey are what make you successful." -Dan Mullen
Ep. 19: Dan Mullen on Extraordinary Happens
"Successful people, as soon as they accomplish one goal, they're immediately looking to start the next goal … Because there is no finish line when you're successful and you have that drive within you." -Dan Mullen
"You can hear the passion in Dan's voice. He literally came off the practice field a couple days before the start of the season to share his thoughts around success. It's just inspiring to me." –Mark King, adidas Group North American President
Extraordinary Happens: Competing in Sports, Business and Life, hosted by adidas Group's Mark King, is a podcast featuring compelling stories behind the people shaping sports and business today. Episodes of Extraordinary Happens are available on iTunes, SoundCloud and the podcast app on your phone.
contacts
Maria Culp

Corporate Communications

United States

971-234-4003