PODCAST: No. 2 NBA Draft Pick Brandon Ingram joins adidas Group's Mark King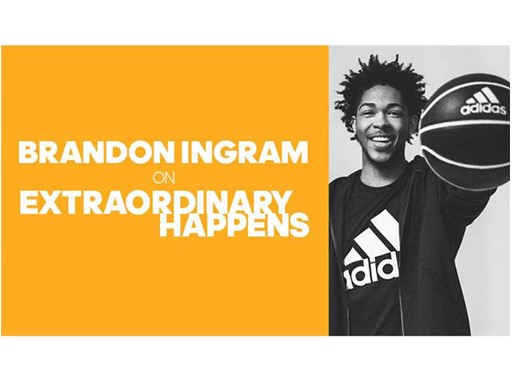 Brandon Ingram, the No. 2 pick in the 2016 NBA Draft, joins adidas Group's
Mark King
on his podcast
Extraordinary Happens
. Ahead of his rookie season with the L.A. Lakers, Brandon discusses expectations, staying humble and taking the process day-by-day.
"Being drafted, of course, is good. But then, being drafted to the Los Angeles Lakers is a whole different story. You walk into that locker room and you see Magic [Johnson] and Kareem [Abdul-Jabbar] on the walls and it's just motivation. You can be the next wave. That's what I'm working for." –Brandon Ingram
"What a wonderful young man. It's just amazing that someone that young can be that mature and that ready … The other thing that struck me about Brandon is how humble he is and how thankful he is for his family, his father, going to Duke and the opportunity to play at this next level." –Mark King, adidas Group North American President
"You have to continue to stay grounded and stay humble. That helps me out a lot. The NBA is paying a lot of money these days, so it's easy to just relax because you got a check. It's easy to relax and not be the basketball player you were before. I think being humble and staying grounded and knowing why you got there and how you got there is something you always need to keep in the back of your mind." –Brandon Ingram
Extraordinary Happens: Competing in Sports, Business and Life
, hosted by adidas Group's Mark King, is a podcast featuring compelling stories behind the people shaping sports and business today. Episodes of
Extraordinary Happens
are available on iTunes, SoundCloud and the podcast app on your phone.
contacts
Maria Culp

Corporate Communications

United States

971-234-4003