Rutgers University and adidas Unveil New "Stadium Lights" Alternate Uniforms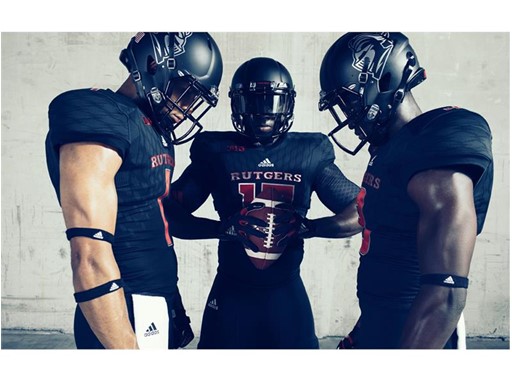 Rutgers University, known for being "the birthplace of college football," and adidas today unveiled the new "Stadium Lights" alternate football uniform, which will be worn Saturday, November 4 vs. Maryland at Yankee Stadium in New York.
Inspired by the symbolism of Rutgers' mascot, adidas and Rutgers Athletics set out to create an alternate uniform that embodies the honor, tradition and folklore behind legendary knights, their armor and their code or arms. Specifically designed and named for the game at Yankee Stadium, this special edition uniform creates a bold alternate look for the Scarlet Knights by combining style and detailing with innovation and technology.
Centered around an all-black theme, the Rutgers moniker is emblazoned upon the chest of the jersey in silver to represent polished armor and to serve as code of arms and focal point for the symbolic design. Next, the scarlet numbers are embossed with a subtle chainmail graphic to replicate the look of a knight's suit of armor. Additional detailing includes an outline of the state of New Jersey that has been stitched on the back above the name plate to display state pride. To complete the look, a matte black helmet features a silver Scarlet Knight graphic on the sides with the Rutgers wordmark highlighted in scarlet on the back of the helmet.
The new Primeknit Rutgers "Stadium Lights" alternative uniform is at the forefront of design and innovation, providing players the perfect blend of style and technology for elite performance. Made with a cutting-edge, proprietary yarn blend that increases durability and abrasion resistance, Primeknit is the premier compression uniform system, featuring the latest generation of adidas TECHFIT technology. Primeknit helps keep players cool and increases range of motion, giving athletes an unrivaled level of comfort and allowing them to perform at their highest levels. The jersey's padlock system secures tension over the shoulder pads, while the bodymap fit adheres to the player, making it difficult for opponents to grab, hold or tackle.
The Rutgers "Stadium Lights" theme continues on the TECHFIT compression baselayer that features a chainmail graphic on the sleeves to match the pattern on the numbers of the jersey, and is highlighted with a silver Scarlet Knight graphic prominently displayed on the chest. Additionally, the black adizero 5-Star 5.0 gloves feature an oversized silver graphic of the Scarlet Knight emblem. Finishing off the black head-to-toe look, the team will don black adizero and FREAK cleats with scarlet accents.
For more information and images of the Rutgers "Stadium Lights" alternative uniform, please visit http://news.adidas.com/US and join the conversation on Twitter and Instagram via @RUAthletics, @RFootball, @adidasFballUS and https://www.facebook.com/adidasfootballus #teamadidas #TheHunt
contacts
Paul Murphy

Football, Baseball, Hockey PR

United States

971-234-4266