Texas A&M & adidas Reveal 'Junction Made' Retro Football Uniforms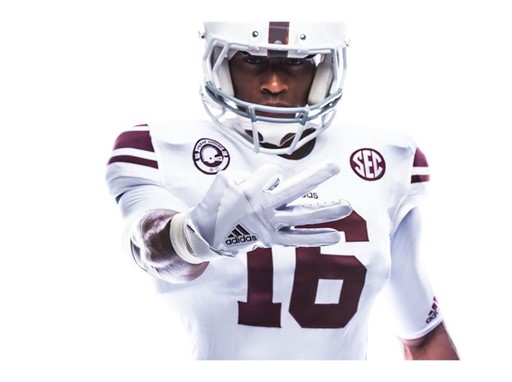 Texas A&M & adidas Reveal 'Junction Made' Retro Football Uniforms Texas A&M University and adidas today unveiled the 'Junction Made' Primeknit alternate football uniform, which will hit the turf when the Aggies visit South Carolina on Saturday, October 1st.
Designed in collaboration with Texas A&M Athletics, the special edition uniform celebrates Aggie toughness and determination, while commemorating the Aggies' historic undefeated 1956 season where the team went 9-0-1 and took home the Southwest Conference Championship – their first in 15 years. Additionally, after what was known as the toughest preseason camp in Aggie history two years earlier, that 1956 team defeated Texas in Austin for the first time since 1922 en route to finishing the season ranked in the top-5 nationally.
Curated in collaboration with the University's library, the throwback story is told through a vintage-style helmet design and an all-white uniform with Aggie Maroon accents, arm stripes and numbering, ultimately matching the 1956 A&M design. Additionally, the jersey hosts a special patch on the right side, honoring the success of the 1956 season with "9-0", "TEXAS AGGIES" and a two-bar helmet stitched into a circular maroon patch.
The special edition retro look combines historical substance with innovative technology. Made with a cutting-edge, proprietary yarn blend that increases durability and abrasion resistance, Primeknit is the premier compression uniform system, featuring the latest generation of adidas TECHFIT technology. Primeknit helps keep players cool and increases range of motion, giving athletes an unrivaled level of comfort and allowing them to perform at their highest levels. The jersey's padlock system secures tension over the shoulder pads, while the bodymap fit adheres to the player, making it difficult for opponents to grab, hold or tackle.
Produced in concert with Hydro Graphics Inc. (HGI) and Riddell specifically for this uniform, the Junction Made helmet is all white with a graphic stripe down the middle that was recreated using high-resolution photographs of an actual 1956 Texas A&M helmet. The helmet also features vintage Riddell and KRA-LITE brand marks on the exterior shell and chinstrap consistent with those worn by the 1956 Aggie team, as well as a custom painted facemask to simulate the appearance of the single and double-bar models versions from the period.
The retro theme continues with the TECHFIT baselayer and the adizero 5-Star 5.0 gloves, that feature an oversized graphic of "Aggies" prominently placed on the chest and inside of the gloves. The adizero 5-Star 5.0 gloves feature 4-way stretch mesh for compression fit and GripTack 2.0 for consistent control in all weather conditions.
For more information and images of Texas A&M's retro 'Junction Made' football uniform, please visit
http://news.adidas.com/US
and follow the conversation on Twitter and Instagram via
@12thMan
​,
@AggieFootball
​,
@AggieFBLife
​,
@adidasFballUS
​ and
https://www.facebook.com/adidasfootballus
,
#12thMan
​,
#AggieNights
​,
#teamadidas
​.
contacts
Paul Murphy

Football, Baseball, Hockey PR

United States

971-234-4266