University of Kansas & adidas Unveil Retro 'Limestone' Alternate Football Uniforms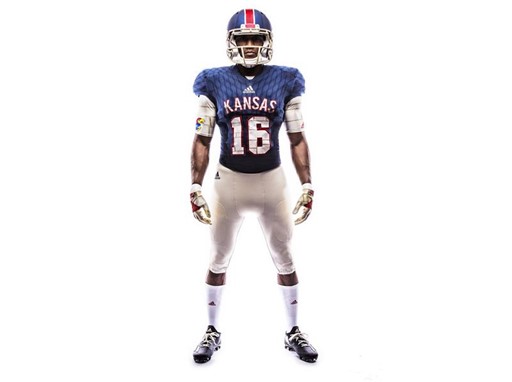 University of Kansas & adidas Unveil Retro 'Limestone' Alternate Football Uniforms
Kansas Athletics and adidas today unveiled the 'Limestone' alternate Primeknit football uniforms, which will be worn October 22nd vs. Oklahoma State.
Merging tradition with geologic and geographic significance and innovative technology, the special edition retro look is inspired by KU's world famous "Rock Chalk, Jayhawk" chant, which was adopted by Kansas Athletics in the late 1880's from the University's geology club, along with the Campanile World War II Memorial and other buildings around the campus that are built from limestone.
Utilizing the sedimentary rock that is prevalent to the area as the central theme for a color palette, the implementation of the aesthetic begins with the jersey. Drawing upon the color and font style hearkening back to the style worn in the early 1960's, the traditional 'KANSAS' moniker and player numbers are featured in a limestone brick pattern graphic and highlighted with metallic red outlining on the chest of the navy jersey.
Made with a cutting-edge, proprietary yarn blend that increases durability and abrasion resistance, Primeknit is the premier compression uniform system, featuring the latest generation of adidas TECHFIT technology. Primeknit helps keep players cool and increases range of motion, giving athletes an unrivaled level of comfort and allowing them to perform at their highest levels. The jersey's padlock system secures tension over the shoulder pads, while the bodymap fit adheres to the player, making it difficult for opponents to grab, hold or tackle.
The theme carries onto a matte navy blue helmet by implementing a limestone brick pattern into the player numbers on one side, while the other side features the iconic Jayhawk mascot. Both designs are separated by a metallic red stripe with limestone brick pattern outlines down the crown of the helmet.
Additionally, the theme is incorporated into limestone colored pants and a limestone brick pattern TECHFIT baselayer and accessories that feature an oversized 'KANSAS' graphic logo on the chest. Finally, the adizero 5-Star 5.0 gloves feature the red outline of the 'KANSAS' moniker atop a limestone carbon fiber pattern. The adizero 5-Star 5.0 gloves feature 4-way stretch mesh for compression fit and GripTack for consistent control in all weather conditions.
contacts
Paul Murphy

Football, Baseball, Hockey PR

United States

971-234-4266