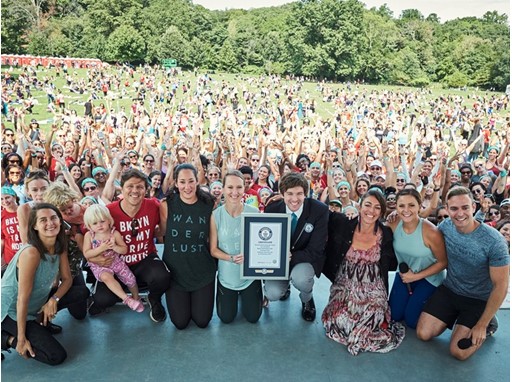 22-year-old New York native Cecilia Gigante usually sleeps in on Sundays, but says she's glad she woke up early for her first adidas-Wanderlust 108 festival in Brooklyn. Cecilia was one of more than 25 hundred people at Prospect Park helping to set a new GUINNESS WORLD RECORD for the most people doing yoga in pairs.

"There was so much love" says Cecilia, who was with her Mother as the record was established. "In yoga, there is so much talk about being something bigger or changing something. This was almost an embodiment of that for me!"
With holistic, high-touch experiences centered around sport and mindful living, adidas and Wanderlust are bringing thousands of people together for events in cities across the world. Wanderlust 108 includes a triathlon of activities including a 5k run, an outdoor yoga flow, and guided meditation.
"The partnership with Wanderlust allows us to create new and exciting opportunities. Breaking a GUINNESS WORLD RECORDS title was a unique way for us to bring people together and celebrate the largest Wanderlust event in the world," said Alison Stewart, Senior Director for adidas Women's.
40-year-old Rachel Chang was attending her third adidas Wanderlust event. "Calming and invigorating" is how Rachel describes the energy, which she says is the best part of Wanderlust 108. "Being able to take a step back and regroup, and re-center, with likeminded people, and create positive energy to send out into the world."
"Wanderlust's mission is to help people to find their true north, and part of that is making yoga, meditation and mindfulness practice something that's accessible, attainable, community-focused and fun. The idea of getting grounded while also setting a world record with a friend was immediately appealing, and we're thrilled to be working with adidas and Guinness to make it happen," said Sean Hoess, co-CEO of Wanderlust.
For more information about Wanderlust events please visit
www.wanderlust.com
​​. To shop the adidas x Wanderlust Co-Branded apparel collection please visit
www.adidas.com
​.
contacts
Margaret Bourn

Women's PR

United States

margaret.bourn@adidas.com

+1 212-352-6129