adizero adios Boost 3.0 Recognised By Runner's World International For Best Update Award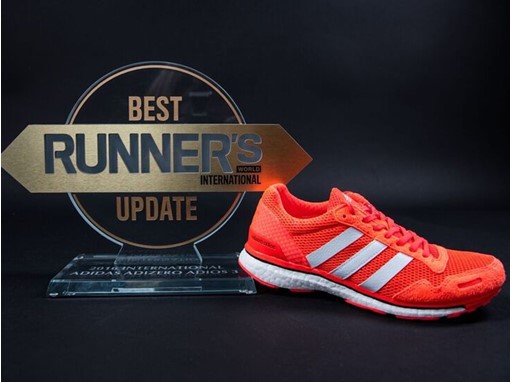 South Africa, November 10, 2016 – This week, adidas Running was presented with the esteemed Runner's World International Best Update Award for its adizero adios 3.0 shoe, the latest iteration of the record-breaking adizero adios 2.0. The updated shoe was described by Runner's World as a "lightweight, fast shoe with a responsive ride". The shoe features adidas' pioneering BOOST™ technology, with a firm foam trim to give endless energy whilst providing additional stability. Combined with updates to the Continental RubberTM outsole, microfit upper and torsion system, it was praised by Runner's World testers who confirmed that this update is "even better" than previous adizero adios versions.
The adizero adios draws on a rich heritage of successes in marathon history, with the original shoe worn by Haile Gebrselassie when he set the world best time at the Berlin Marathon in 2008. More recently, the adizero adidos 2.0 was worn by Dennis Kimetto when he ran 2:02:57 at the 2014 Berlin Marathon, while Mary Keitany won her third consecutive New York Marathon wearing adizero adios BOOST 3.0.
Andre Maestrini — Global general manager Running: "We're delighted to win the award for Best Update, and that the Runner's World testers have found this to be our best adizero adios shoe yet. Our goal is to help athletes be faster and improve their performance, so we are proud that the adizero adios BOOST 3.0 has continued to set new standards."
Featuring hand-crafted design by legendary footwear designer and adizero pioneer Mr. Omori, the adidas adizero adios BOOST 3.0 incorporates five key benefits to deliver more speed than ever before:
1. BOOST™ technology – provides a higher energy return than any other foam cushioning material in the running industry
2. Microfit upper – a breathable, contoured mesh that makes each movement natural
3. Continental Rubber™ outsole – a high performance rubber outsole that grips the ground for better traction and a powerful push-off
4. Torsion system – delivers optimum transition and stability
5. adiwear material – for ultimate durability
contacts
Tebogo Kgosi

Senior Manager City Activation & Newsroom

South Africa

-

-