Orlando Pirates unveil 80th Anniversary Special Edition Jersey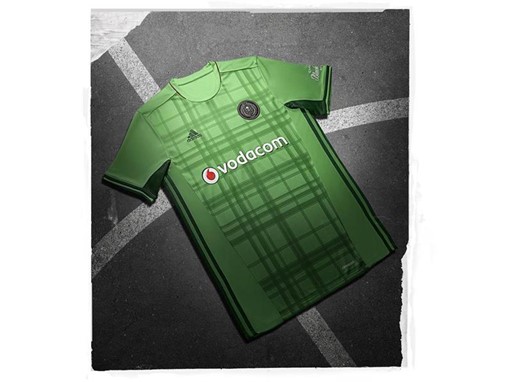 01 December 2016 – adidas and Orlando Pirates Football Club have launched an 80th Anniversary Special Edition Jersey on the occasion of the Club's 80th birthday.
From humble beginnings in 1937, the Club has remains an evergreen presence in the South African footballing scene and has grown to be one of the most recognisable brands in the country.
To celebrate, we are launching a green jersey to add to the black Home and white Away kits launched earlier this year.
"Orlando Pirates are an institution and we are extremely proud and honoured to have enjoyed a long-term partnership with them. We worked with the club to develop a jersey that we thought would represent its longevity and be appealing to its legion of followers," said adidas South Africa Head of Football, Adrian De Souza.
The 80th birthday solar lime jersey returns after making its debut back in 1994, when the Buccaneers played their way to clinching the first league championship in a new and democratic South Africa.
Excited about the 80th Anniversary Special Edition Jersey, Orlando Pirates Brand Activation Manager, Tokoloho Moeketsi commented, "Orlando Pirates is not just a club steeped in great football history, but one that is entwined with the moral fabric of events that shaped the history of this great country. On the eve of yet another landmark in the Club's journey, we felt it was important to pay homage to those moments in our past to allow us to move forward as a brand. The green of 1994 signalled a rebirth of a country hurting from an oppressive legacy, and we hope with the 2017 green, we'll bring supporters together as they push the team to scale those heights of league victory" Moeketsi says.
Technology
The kit features the latest adidas technologies to ensure that it not only evokes pride in the jersey but gives Orlando Pirates an edge on the pitch:
ClimaCool™ - adidas ClimaCool technology provides a mixture of heat and moisture controlling materials, ventilation channels and 3D fabrics to improve air flow to the skin in key heat zones, meaning that when the body heats up during exercise, ClimaCool ensures that the athlete remains optimally cool. The likes of Thabo Matlaba and Riyaad Norodien, whose positions require a high work rate and put them constantly in the heat of battle, will undoubtedly benefit the most from this technology.
The jersey will be available from 8th December 2016 at adidas Performance stores as well as key sports and football retailers countrywide at a recommended retail price of R799 for adult jerseys and R699 for youth.
The Orlando Pirates anniversary jersey will be donned for the first time on Saturday, 03 December 2016 when the Buccaneers take on Highlands Park FC at Orlando Stadium.
Follow @adidasZA #FirstNeverFollows on Twitter and Instagram to join the conversation
contacts
Tebogo Kgosi

Senior Manager City Activation & Newsroom

South Africa

-

-