adidas Originals Unite Joburg featuring Danny Brown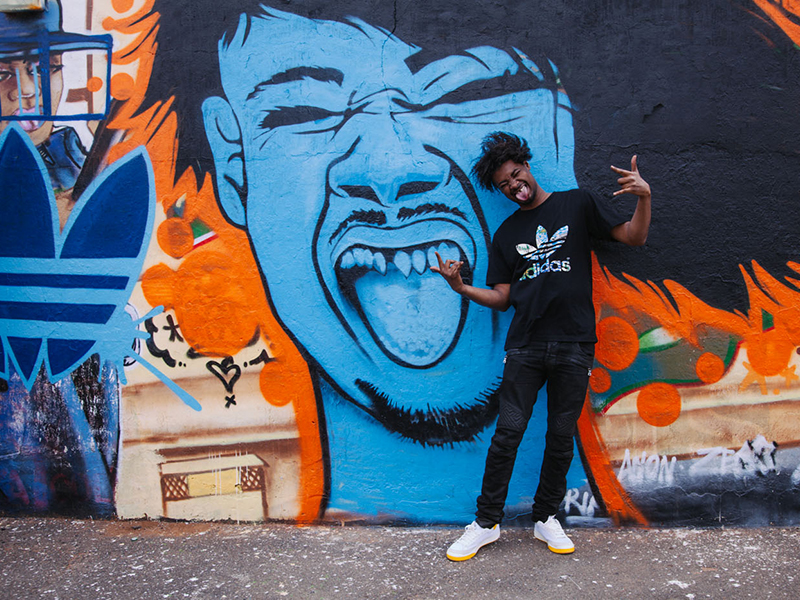 On Friday, 15 November 2013 almost 2000 of Joburg's most influential were united at Walter Sisulu Square in Soweto for the
adidas Originals
Unite Joburg event that featured Detroit hip hop artist
Danny Brown
, supported by some of the city's most eclectic local talent.
Danny Brown hit the stage after his touring DJ SKYWLKR had warmed up the crowd with a few tunes. Brown entertained the crowd in his high-paced, unique style, whilst performing many of his most well-known tracks. The artist was clearly excited to be performing in Joburg; jumping around the purpose-built stage, high fiving and engaging with the crowd, thanking those in attendance for the opportunity to appear in South Africa – fulfilling a long-time dream of his.
The crowd, who had assembled from all corners of the city for the event, was enthralled with the American's performance, rapping along to his upbeat lyrics; creating the ultimate atmosphere and embracing the overall theme of the evening: to unite Joburg.
Throughout the evening, attendees were also treated to a selection of Joburg's most sought-after artists; carefully selected to represent the original and authentic local styles and genres of Joburg. Exploring alternative avenues with Kwaito and electronic music production, Mma Tseleng kicked off the evening, whilst Phat Jack and later Cuebur both brought their unique take on the much-loved deep house sound. Redbull Thre3Style champion Tha Cutt brought his trademark hip-hop, old skool, and funk set to the show whilst the always fresh-sounding Kid Fonque gave the crowd a taste of electronic and dub step.
Scrambles4Money, one of the favourites and most engaging performances of the evening, showcased the independent South African hip hop battle circuit, where the crowd selected their favourite 'battlers' from those on show to win cash. Lastly but certainly not least, DJ Switch, brought the evening's proceedings to a close with an eclectic range of hip-hop, ragga, house, jazz, kwaito and dub step.
To view a video of the event,
click here
.
Whilst in Johannesburg for the event, Danny Brown was also able to get a taste of the local scene in and around the city. He made a trip to the adidas Originals store at Menlyn Park Shopping Centre in Pretoria where he met a number of lucky
3Stripes
fans who won the opportunity to meet Danny Brown in person. He later headed into the heart of Soweto to the now-iconic
Chaf Pozi
, where Danny and his entourage tested their off-road skills on quad bikes, before going to check out a street art mural that had been done of the rapper by two young local artists at
Thesis
concept store.
Danny was later treated to a traditional South African braai at an African-inspired banquet dinner in
AREA3
with biltong, koeksisters, nyama and pap.
Danny Brown's whirlwind tour of Johannesburg ended on the Sunday when he returned to his hometown of Detroit, Michigan.
Follow adidas Originals on Instagram
adidasZA
and on Twitter
@adidasZA
#unitejoburg
For more information on adidas-related news visit the adidas
News Stream
.
Unlock
the adidas vault
to find out more about the brand's heritage.
contacts
Fabrizia Degli Esposti

Brand Marketing and PR Manager

South Africa

Fabrizia.Degli.Esposti@adidas.com

27 (0)21 442 6200