adidas Originals ZX Flux Future Collectors video series featuring Wandile Msomi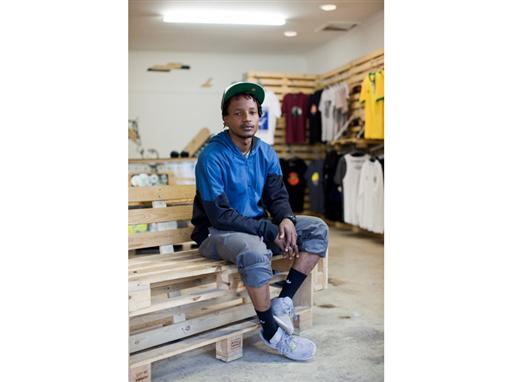 Continuing the ZX Flux story, adidas Originals casts the spotlight on influencers from different backgrounds. Chosen for their unique point of view and determination to making a name for themselves, these individuals truly exemplify what is to be an original.
In the last of three short films, local skateboarder and entrepreneur Wandile Msomi shares his story and what he hopes to achieve, as well as how the adidas Originals ZX Flux fits into his world.
See the interview with Wandile Msomi
here
.
In person, he went on to say:
adidas Originals: Tell us a bit about yourself.
Wandile Msomi: I've been living in Johannesburg for most of my life. I skateboard and run a skateboard company called Funisu Skateboards. I also own a skateboard shop called Home Grwn.
aO: What's the one moment when you realised what you wanted to dedicate your energy to?
WM: I've been skateboarding for the last 17 years of my life. It all started when I was 15 and on a family trip back to Durban. A childhood friend that I looked up to was skating and I had to get myself involved. It's been me and my skateboard ever since.
aO: What local inspirations have been a huge influence on you and how are you taking it in your own, unique direction?
WM: Skating is no longer what I do every day, so my influence on that level has changed. I guess my job as the older guy in skating in South Africa is to focus on development, and to inspire skaters to be themselves and to work towards their goals. My family has always been supportive of what I do, so I just want to return the favour to the universe.
aO: What's your vision? What is the new legacy you are looking to create in South Africa?
WM: My vision is to be surrounded by positive and hard-working people, and for me this is a lot more important than a legacy or what people perceive of me.
aO: How do you use local platforms to build your unique brand? How does living in South Africa affect your brand?
WM: Like a good boxer you have to learn to duck, move and weave in the system - it's how you survive. What's most important is that you're able to take blows as they come, and to deal with what's coming in the best way possible – without being afraid of it. Travelling and being able to see so much has led me to think on a local and international level.
aO: How have you incorporated adidas Originals ZX Flux into your lifestyle/aesthetic?
WM: They're my after-skate shoes, my "go get em" shoes.
aO: How is adidas Originals relevant to South African consumers?
WM: It's the brand that really expresses what we're about. The shoes and apparel are diverse in look and function, and the fact that I can use adidas Originals footwear to skate in is proof of that.
Follow adidas Originals on Instagram adidasZA and Twitter @adidasZA #ZXFlux
For more information on adidas-related news visit the adidas News Stream
Unlock the adidas vault to find out more about the brand's heritage.
contacts
Fabrizia Degli Esposti

Brand Marketing and PR Manager

South Africa

Fabrizia.Degli.Esposti@adidas.com

27 (0)21 442 6200