Estimated 15,000 Ragers Tune into OriginalsFM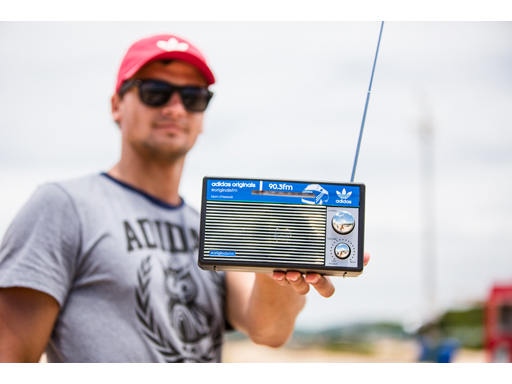 Plett Rage – arguably one of the southern hemisphere's longest running and largest student beach festivals – offered iconic sports lifestyle sub-brand adidas Originals the perfect opportunity to make itself heard during the festival's annual town and beach takeover.

In an unprecedented move, adidas Originals took over the MC90.3FM* radio waves every day between 12h00 and 15h00 between 30 November and 6 December 2012.

Hosted by DJ Moosa and broadcasting live from Plettenberg Bay's Central Beach to an estimated 15,000 'ragers', adidas Originals was able to directly interact with students attending the festival.

For those not on the beach during OriginalsFM broadcasting times, adidas Originals gave away retro-style battery operated radios further ensuring students could tune into the station from wherever they were and be kept up-to-date and engaged regarding competitions and events taking place in and around Central Beach.
contacts
Fabrizia Degli Esposti

Brand Marketing and PR Manager

South Africa

Fabrizia.Degli.Esposti@adidas.com

27 (0)21 442 6200