Progress that Leaves a Patina: adidas Originals x Hender Scheme FW18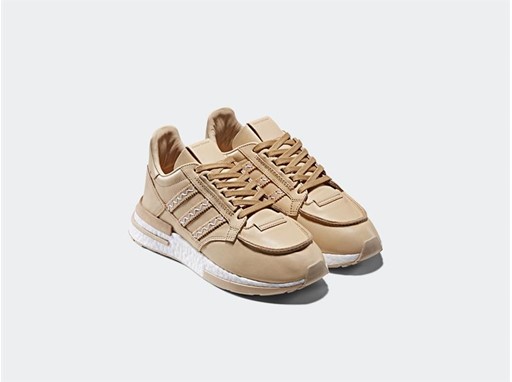 The latest capsule from the ever-evolving partnership between adidas Originals and Hender Scheme reimagines iconic athletic innovations from adidas' past and present
Each style is a celebration of 'new craft', capturing the feel and durability of a true adidas sports shoe within a truly artisanal product
The ZX 500 is rendered in two variations, handcrafted from the premium leathers that have become synonymous with the Japanese brand
(Herzogenaurach, Germany)—Hender Scheme is the Tokyo-based footwear and accessories brand founded and designed by Ryo Kashiwazaki. It's Manual Industrial Products (MIP) series has garnered a cult following around the globe for its striking iterations of iconic footwear silhouettes. By rendering each pair in the highest-quality, vegetable-tanned leathers and exposing the complexity (or simplicity) of the designs through visible, handmade construction techniques, Kashiwazaki and his team offer a new way to appreciate and elevate designs more often associated with 'the street'. Collaborating for the first time in 2017, the relationship with adidas has given Kashiwazaki unparalleled insight into the sportswear brand's design heritage. Each new collection together is an evolution, one that sees Kashiwazaki pushing his materials and craft to the limits.
The FW18 release is built around an adidas running shoe with technical details and functionality that pushed Kashiwazaki and his team to develop new ways of working. Drawing on the seminal ZX line, which began life in the 1980s and changed the course of running shoe history, there was a desire to not only create a beautiful lifestyle product but also stay true to the ideals behind the original models. When creating the new Hender Scheme iterations, Kashiwazaki says that he "wanted to give more of a true sports feeling" in celebration of the ZX line's heritage. "Achieving a certain level of performance – how will it perform in high temperatures or humidity, for example – while also staying true to our artisanal materials and methods presented a unique challenge."
The HS ZX500 RM is based on the very first ZX style, released in 1984 and originally made with nylon and suede reinforcements on the uppers and an EVA sole, Here the shoe is available in two leather variations, each sitting upon a contemporary BOOST sole. The first is a full, premium nude leather version with no post-processing. Over time, each individual pair will develop a unique, all-over patina based on the wear and conditions they are exposed to. The second version is available in two colorways and features a combination of two leathers with a mesh textile underlay and pull-chord lacing system. As well as smooth nude leather, it features a pigment-treated leather that takes on a naturally-wrinkled, crepe-like finish. This treatment also slows the aging process and as such a differing patina will appear across the two leathers over the course of each pair's lifetime.
Closing out the FW18 capsule are a number of accessories, each constructed from a blend of considered textiles, elevated by naturally tanned leather accents and minimalist co-branding. A neoprene shoe-case features a tanned leather handle, as do two tote bags inspired by Japanese Furoshiki designs. A three-panel baseball cap with leather accenting on the bill and a leather size-adjustment strap on the rear close out the accessories. Each piece is further evidence of the harmony that can be found between adidas' technical craft and the traditional leatherwork of Hender Scheme.
adidas Originals x Hender Scheme FW18 will be available for purchase on November 24th.
HS ZX 500 RM - F36044
RRP: $300.00 | 300.00 € | ¥40,000
HS ZX 500 RM - F36045
RRP: $220.00 |220.00 € | ¥28,000
HS ZX 500 RM - F36047
RRP: $220.00 | 220.00 € | ¥28,000
HS SHOE CASE
RRP: $40.00 | 40.00 € | ¥4,990
HS 3 PANEL CAP
RRP: $60.00 | 60.00 € | ¥9,990
HS TOTE LARGE
RRP: $80.00 | 80.00 € | ¥12,000
HS TOTE SMALL
RRP: $50.00 | 50.00 € | ¥7,990
contacts
Andrés Paz Micheo

Sr. PR Manager adidas Originals

United States

+1 971 325 6264