adidas and James Harden Launch 'Creators Never Follow'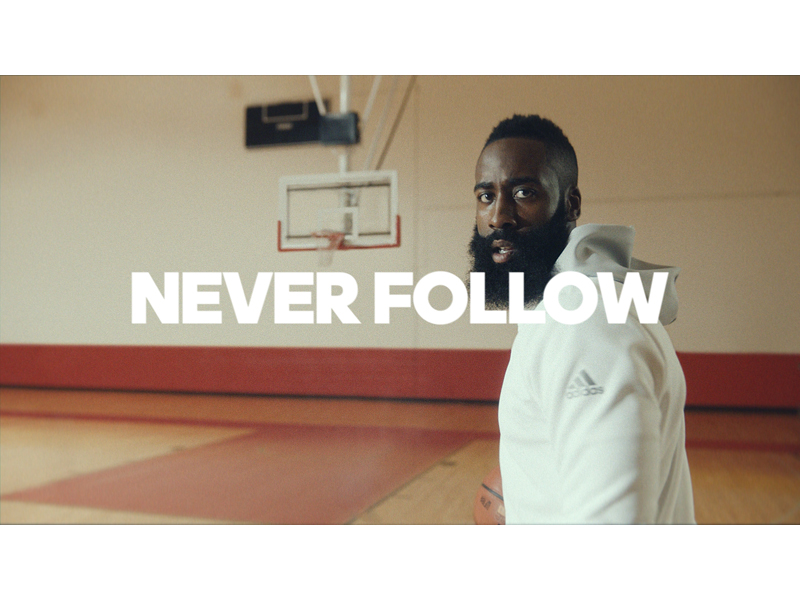 adidas introduces, 'Creators Never Follow,' a new film starring Houston Rockets superstar James Harden that builds on this year's series of sport focused content starring its brand icons. Driven by the mission to be the world's best sports brand, the film encourages all athletes to define their own path. It encapsulates adidas' vision of inspiring creators to lead their own game and celebrate that every moment in sport is an opportunity to redefine yourself.
"I'm really excited about my first commercial campaign with adidas and I love that this spot is true to who I am, my style of play, and represents how we're going to disrupt the game, " said NBA All-Star Harden. "My story is about being your own person — from how you dress to how you carry yourself. It's simple; you've got to be true and genuine at all times. This campaign is all about that, and is just the beginning of what adidas and I will do."
Sports are changing. adidas and James Harden embody the bold, brash and new attitude of how sport can and will be played. He created a style all his own as one of the NBA's most dangerous offensive weapons with a repertoire of deadly step-back jumpers, a staggering Eurostep and bullet pass assists. 'Creators Never Follow' celebrates Harden's hunger to win championships, confidence to express himself and courage to carve out his own path. It relays adidas' vision to think differently and ultimately lead and never follow.
"Sport today isn't about standing by and watching other people's greatness," said Ryan Morlan, adidas Global Vice President of Marketing. "It's finding your own path and removing any obstacle in the way to reach it. James is a great example of that and young athletes around the globe will be inspired by how we're revolutionizing the game with 'Creators Never Follow.'"
The new 60 second adidas film showcases individual expression, fan affinity and style. Sport15 further establishes the brand's leadership and passion for sport, motivating athletes to trust their gut, challenge the status quo and create their own definition of leading the game. It is the latest chapter that builds upon the recent launches of 'Create Your Own Game,' 'Unfollow' and 'Create The New Speed,' which starred global soccer stars Lionel Messi, Gareth Bale, Thomas Müller, Mesut Özil and NFL stars DeMarco Murray, Jimmy Graham and Sammy Watkins.
contacts
John Febbraro

Category Brand Planner

Canada

905-266-4387