adidas Golf enter new dimension with Augmented Reality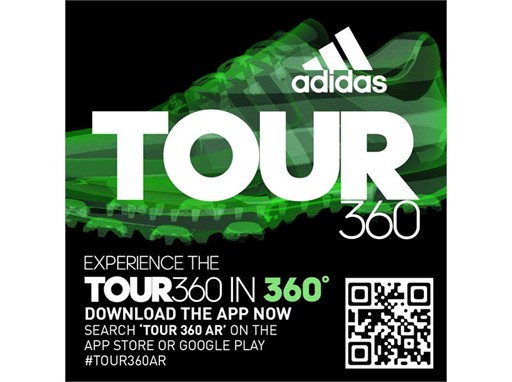 adidas Golf this week released the Tour 360 Augmented Reality (AR) app.

A breakthrough in the golf apparel / footwear market, adidas is the first brand to utilise Augmented Reality to highlight products in the golf industry.
This first to market concept brings the iconic Tour 360 2.0 shoe via augmented reality to wherever the user is.
The features and benefits of the shoe are highlighted before allowing the viewer to see the shoe in action on a life-sized golfer. The app concludes with the shoe cycling through the differing colour schemes available offering users the opportunity to see every detail of the shoe and choose their preferred colour scheme!
This concept also provides an opportunity for retailers of every size to maximise the point of sale potential of the app. The retailers can now greet a customer with an augmented reality experience that highlights the features and benefits of the iconic shoe in a unique and innovative manner in the golf industry.
adidas Golf's European Head of Marketing Chris Hedderman said "Augmented Reality is an exciting opportunity for us as a brand to showcase our product in new and exciting ways for consumers and retailers alike, and we feel as though we are just scratching the surface with the Tour360 AR project. With such a diverse retail landscape in the golf industry, it is important we equip our trade partners with new and exciting platforms from which to interact with consumers. It is a great exploratory app, allowing consumers to learn the features and benefits of the Tour360 as well as see the range of colours adidas offer along with how they look on a golfer. It's an exciting development and we look forward to exploring new possibilities with Augmented Reality"
The app can be downloaded via the QR code in the creatives or by using the below links:
Please tag in @adidasGolf and use the following hashtag #TOUR360AR in all social posts.
A walkthrough of the app, a behind the scenes video and a facebook 3D post can be downloaded and used on your websites / social media.
contacts
Tim Atkins

PR & Communications Manager adidas Golf EMEAP

United Kingdom

+44 1256 373337