adidas and AC Milan present the 2013/14 away jersey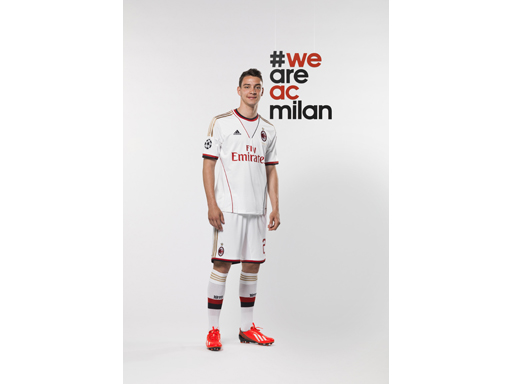 The away jersey, white as tradition, will be protagonist of the first day of the pre-season training camp, planned in Milanello on July 8th

Milan, July 1st 2013 – The new white jersey, traditional away kit of AC Milan, will be protagonist in Milanello on July 8th during the first day of the pre-season training camp, kicking off the 2013/14 season.

Away jersey design White base with golden three stripes, the most relevant feature in the AC Milan technical apparel for the next season. Crewneck with red and black profiles, the same pattern applies to the sleeve hems, the collar and on the sides of the shirt showing two parallel red and black lines. On the back of the collar, as a proud statement, is visible the Italian flag. The away kit includes white shorts with golden stripes and red and black details on the bottom hems and white socks with golden stripes and black and red embroidery of the date 1899.The fabric, with climacool technology, has been enriched to guarantee superior comfort.

#weareacmilan

The away jersey launch continues the communication path of the new claim #weareacmilan, that enjoyed worldwide success on twitter reaching 143 millions impressions (source: heartbeat/sysomos), and that will peak with the launch of the home jersey. #weareacmilan is a strong and involving statement, expressing in a simple and direct way the sense of belonging to the club, sharing its values, style and passion. adidas and AC Milan launch this claim in order to make it available to the team, to the worldwide supporters and to all the people that feel like being part of the red and black tribe. #weareacmilan will be the key communication claim for the club and also a media available to the fans to keep connected with AC Milan. A cross media concept to be used online, offline and on all the communication platforms.

The new away jersey will be available in store and on the ecommerce channels, starting from today July 1st.
contacts
Robert Hughes

Managing Editor Global Newsroom

Germany

+49 9132 84 2352

Alan McGarrie

Global PR and Social Director for Football

Germany

+49 9132 84 4686