adidas and the Spanish Football Federation present the new kit for UEFA EURO 2016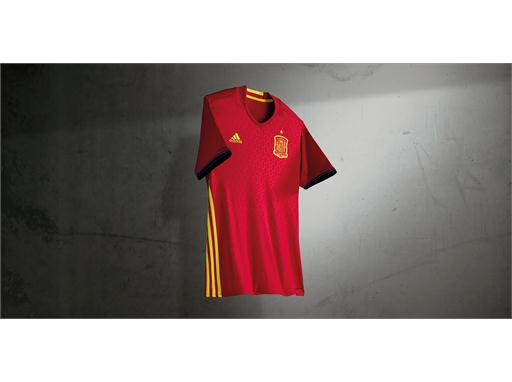 Madrid, 10th November –The new Spanish National Team's kit was presented for UEFA EURO 2016 at a spectacular event joined by the entire squad of the defending champions.
A great event, which began with fifty youths competing in a 3-on-3 tournament to demonstrate who had control over the playing field. Then the entire squad presented the new kit, which has a vintage design, is true to the team's roots and has the traditional colour red.
As a tribute to urban football, street football that is still a growing trend among youths and in a unique environment, the jersey was presented during a provocative lights-and-mapping game, which finished on the footballers' bodies.
Who wants it? With this message, adidas launches the jersey, which, as the current European champions, is committed to defend it and whoever wants it has to firstly face the Spanish National Team:
Mantra: Do you want a little action? Good. That's what we want to hear. Show us your game. We like challenges and love defending our own. We have the wish of being champions running through our veins. We want to taste victory. We have the skill, natural talent... And we also have the Cup. So come on. We're waiting. We're ready. And no one wants it more than us. Do you want it?
#BeTheDifference
This new kit has a classic design, returning to the blue shorts and dark socks. The triangle is the key motive of the jersey and if something characterizes the National Team in the past years it's their triangle game; that game style that has managed to dominate world football and that will be present not only on the pitch but on the jersey.
Therefore, the triangles become a decisive element in the jersey and make up part of its own material.
Fort the first time, the three stripes of adidas, stop being on the sleeves and run along either side of the shirt in a vibrant yellow.
Thus the kit presents a traditional colour red, as well as details in yellow and blue.
Spain will wear this kit for the first time against England on Friday 13 November in Alicante
The jersey will go on sale on November 13 on www.adidas.com as well as in authorized stories.
contacts
Sandra Tambo

Head of PR

Spain

+34 976 710 207

Alejandro Alcázar

PR Manager

Spain

alejandro.alcazar@adidas-group.com

+34 976 710 405