adidas Svela Le Terze Divise "Spark in the Night"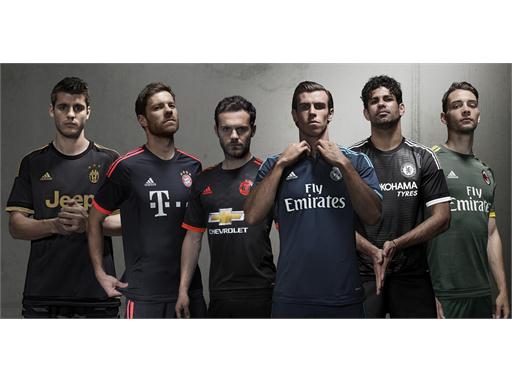 Giovedì 27 agosto
– Questa sera, a Marsiglia, durante la finale mondiale del torneo
#BETHEDIFFERENCE
, adidas presenterà ufficialmente le terze divise di 6 fra i più vincenti club europei:
Manchester United, Real Madrid, AC Milan, FC Bayern Monaco, Chelsea FC e Juventus
.
Ognuno dei sei giganti d'Europa, porterà due giocatori per svelare i nuovi terzi kit denominati 'spark in the night'. Tutte le divise presentano riferimenti all'heritage, ai fan e alle città di questi grandi club, che complessivamente hanno vinto ben 28 UEFA Champions League.
La maglia del Manchester United è stata disegnata con elementi rossi fluorescenti come riferimento alle numerose notti di gloria in Europa vissute all'Old Trafford, mentre il kit del Real Madrid unisce blu indaco e blu elettrico per ricordare gli epici incontri notturni di UEFA Champions disputati sotto il cielo di Madrid.
La nuova divisa del Bayern Monaco include colori brillanti e un tessuto speciale, progettato per brillare nella massima competizione in Europa. Quella del Chelsea è ispirata da una grafica che ricorda un'impronta digitale, una orgogliosa illustrazione dell'identità del club.
La terza divisa della Juventus ha le tre strisce e lo stemma del club in oro, colore simbolo di successo, mentre quello dell'AC Milan è basato sui colori e sul "green aspect" di EXPO, che la città di Milano orgogliosamente ospita nel 2015.
"Abbiamo iniziato il processo di creazione del design nel 2013, facendo ricerche sui trend e andando a fiere di moda. Poi abbiamo visitato le città e i club raccogliendo input dalle squadre e dai fan," ha detto Florian Baeuerlein, Senior Product Manager, adidas Football. "Ogni passaggio è stato fatto in partnership con i club, sono stati raccolti i feedback strada facendo per modificare i concept in modo da creare dei kit che fossero molto apprezzati dai team e dai loro fan e giocatori."
Nel giorno che vedrà l'incoronazione del vincitore della finale mondiale di
#BETHEDIFFERENCE
, i terzi kit saranno svelati a Marsiglia in una location costruita per l'occasione. I giocatori dei 6 club prenderanno anche parte ad una esibizione di 2v2.
Per seguire l'evento visita
facebook.com/adidasfootball
oppure segui @adidasfootball #BETHEDIFFERENCE su twitter o Instagram.