adidas sărbătorește startul Cupei Mondiale FIFA 2018 cu o proiecție pe celebrul Teatru Bolshoi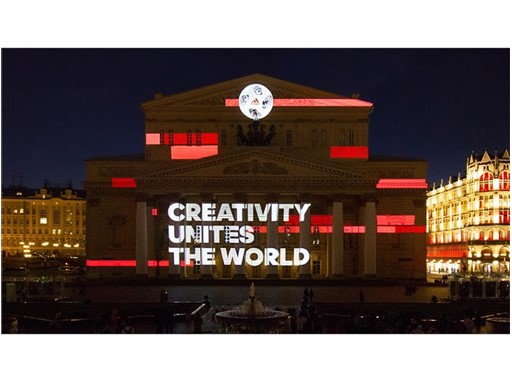 - Proiecția a cuprins unele dintre modele unice, prezentate înaintea primului joc al Cupei Mondiale –
- adidas luminează monumentul Moscovei pentru a celebra începerea celui mai mare spectacol fotbalistic –
- Evenimentul a făcut parte din campania adidas dedicată Cupei Mondiale 'Creativity is the Answer' -
Moscova 14 iunie – adidas Fotbal a dezvăluit aseară, înaintea începerii oficiale a Cupei Mondiale, o selecție de proiecții unice care au luminat teatrul Bolshoi din Moscova. Celebrul teatru din Moscova s-a transformat într-o sărbătoare a creativității, a fotbalului pe teren, în viață și în lume.
Proiecția de pe clădirea Bolshoi din Moscova a avut loc în cadrul debutului Cupei Mondiale. Aceasta a cuprins o varietate de imagini care celebrează cele mai bune momente ale Cupei Mondiale și îi încurajează pe fanii naționalei Rusiei să-și susțină echipa. Proiecția a inclus design-uri care prezintă vedetele echipei naționale ruse, 'Together to Win' o ilustrare a textului amplasat pe spatele echipamentului Rusiei, tricoul oficial, Telstar18 (mingea oficială), o serie de jucători de top adidas și în final un grafic cu imagini din noul clip 'Creativity is the Answer' sub numele 'Creativity Unites the World'.

Clipul face parte din noua campanie adidas 'Creativity is the Answer'. Pe perioada Cupei Mondiale, adidas demonstrează faptul că creativitatea are puterea de a duce sportivii de la jocul străzii la celebritate, de a aduce împreună oamenii din diferite culturi și comunități și, în cele din urmă, de a schimba lumea. În orice sport sau în orice domeniu, adidas încearcă să demonstreze că 'Creativity is the Answer' și că 'Creativity Unites the World'.
Florian Alt, VP Brand Communications, adidas Football afirmă despre proiecție: "Cupa Mondială reunește creatori din întreaga lume cu un singur scop, pentru a câștiga cel mai mare turneu din fotbal. Puterea creativității de a aduce împreună grupuri este ceea ce am dorit să sărbătorim prin proiectarea acestor modele grafice moderne și interesante pe istoricul Bolshoi din Moscova. Ceea ce poate părea a fi o ciocnire între modern și tradițional, nu ar putea fi mai bine conectat. Bolshoi, de generații, locuința unora dintre cei mai talentați creativi din lume, va servi acum ca o vitrină pentru unii dintre cei mai mari creatori ai fotbalului și sperăm că va ajuta să aducem întreaga Rusiei în spatele a ceea ce ar trebui să fie un spectacol incredibil dedicat fotbalului."
Pentru informații suplimentare, vizitați
adidas.com/football
sau urmăriți @adidasfootball pe Instagram pentru a vă alătura conversației.
contacte
Roxana Răcănel

PR Manager

Romania

roxana.racanel@dbopeople.ro

+40 747 070 237