SUBSCRIBE TO RSS FEED

XML
adidas Hosts BOOST the Nation Custom Sneaker Auction For Women by Women to Unite Creativity Through Sport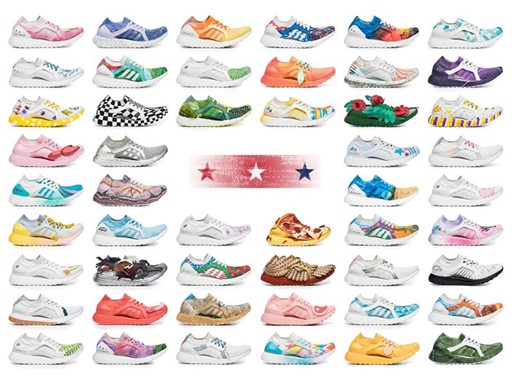 Celebrated Artists Create 50 One-of-a-Kind UltraBOOST X
Inspired by the Unique Spirit of Each State Available July 4 on
adidas.com
Digital Silent Auction Offers New Way for Consumers to Collect Limited Edition Footwear and Support a Cause with 100 Percent of Funds Benefitting Women Win
Portland, Ore., June 30, 2017 – adidas x Refinery29 are partnering with celebrated female artists to create one-of-a-kind pairs of UltraBOOST X representing all 50 states. The limited edition BOOST the Nation collection is created for women by women to unite creativity through sport and reflect the nation's individuality. Sneakers will be available starting July 4 by auction and 100 percent of the funds raised will be donated to Women Win, an organization that empowers girls to build leadership skills and address gender equity through sport.
"It's not about competing with each other, but lifting each other up and celebrating the diversity of this country," said fashion illustrator Meagan Morrison who designed sneakers inspired by Alabama, California, Connecticut, Missouri and Virginia.
Refinery29 curated a diverse group of artists – including
Meagan Morrison
,
Maria "Too Fly" Castillo
,
Bree Poort
,
Lizzie Darden
,
Jenny Kiker
,
Sophia Chang
,
Mari Orr
,
Jen Mussari
,
Carrie Chan
,
Jordana Schrager
and Refinery29 fashion editor
Alyssa Coscarelli
– to design the custom sneakers. Each is inspired by a state's unique culture, landscapes and notable landmarks, to create an original work of art.
"We can find beauty despite diversity and, more importantly, because of diversity, from shorelines to glaciers, from farmland to mountaintop to prairie. If everything was the same, nothing would be remarkable," said chemist turned artist Mari Orr who designed sneakers inspired by Alaska, Iowa, Maryland, Nebraska and South Dakota.
In collaboration with digital campaign platform Wyng, adidas and Refinery29 are leading the industry with the first digital silent auction marketing campaign for a good cause integrated with the brand's ecommerce platform. Launching on July 4 through July 11, consumers can select their favorite pair and bid to purchase the coveted custom sneakers by visiting BOOST the Nation
here
on adidas.com. The auction includes an option to donate and support the cause without having to win and share across social channels.
"UltraBOOST X is the best performance shoe for the female athlete and it's as stylish and versatile as you need it to be," said Alexa Andersen, U.S. category director for women's running at adidas. "As a brand that walks the line between sport and creativity, we saw the triple white silhouette as a blank canvas full of possibilities to collaborate with powerful and expressive women in a way that would celebrate differences and highlight the unique characteristics that unite us
"At Refinery29 we believe strongly in the power of art and design to incite meaningful conversation and inspire change, so partnering with adidas to launch the BOOST the Nation custom sneaker auction was a natural fit," said Hallie Johnston, SVP, Client Services & Strategy, Branded Content at Refinery29. "The custom sneakers designed for women by women celebrate the diversity and creativity of this country, while intersecting sport and art in a unique and shareable way."
The adidas UltraBOOST X is available now for $180 on
adidas.com
in six colors including triple white, mystery blue, trace pink, core black, clear grey and glow orange. Taking you from the studio to the street, UltraBOOST X is a new interpretation of its groundbreaking predecessor and the brand's pinnacle performance shoe tailored to the unique shape of the female foot. The adaptive arch molds to your foot and adidas' most durable cushioning, BOOST, offers comfort and energy with every stride. Follow @adidsrunning on Twitter, Instagram and Facebook and share using #UltraBOOSTX.