adidas Celebrates Athletes Who Choose to Change the Conversation in Sport Through Creativity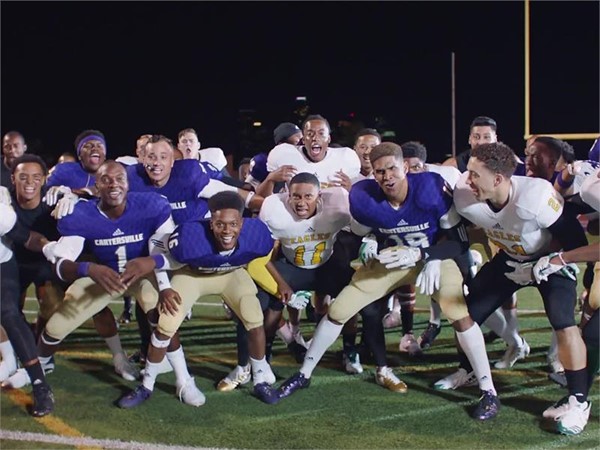 Campaign features creators at all levels of sport including professionals like: Dak Prescott, DeAndre Hopkins, Kris Bryant, Carlos Correa, Candace Parker, Joel Embiid and Robbie Rogers
PORTLAND, Ore. July 12, 2017 – Some athletes stand out from the crowd. They use their own imagination to redefine their sport. With a single act of creativity, they can inspire others, spark a movement and change the world around them – on the field, pitch, court, track, street or anywhere they are in life. These are the Creators.
In that vein and building on the belief that all athletes are Here to Create, adidas today unveiled its new multi-dimensional campaign – "Create Positivity" – the latest chapter of the adidas Sport17 brand campaign comprising of a :75-second hero film, a series of six digital film vignettes, as well as on-the-ground grassroots activations in five cities.
The "Create Positivity" films shine a spotlight on how athletes change the conversation in their sport by using their creativity to bring about positivity. A single act of creativity can bring rival teams together and unify athletes against a cause. The newest chapter builds upon the narrative of recent launches,
Unleash Your Creativity
and Basketball Without Creativity.
"We are the creator sports brand," said Ryan Morlan, adidas' VP of Global Brand Communication. "We believe that creativity is how you make a difference in your game, life and world. We want to change the conversation of sport today by inspiring athletes to ignore the norm and use their creativity to spark a movement and shape their own realities."
The hero film, "
Create Positivity
​" premiers on ESPN during the 2017 ESPY Awards (Excellence in Sports Performance Yearly Award) and will air multiple times on ESPN and the NFL Network. It also will be streaming live in the digital space on Hulu, FOXSportsGo, and WatchESPN. From there, six video vignettes highlighting six sports
Streetball
​,
​
Softball
,
Soccer
​,
Football
​,
Basketball
​ and
Baseball
​ will run on multiple digital channels. This activation is built on a customized media mix that allows for personalized storytelling and a mobile-first mentality.
A diverse roster of celebrated athletes are featured in the film reinforcing the power of positivity. Those athletes include 2016 Offensive Rookie of the Year, quarterback Dak Prescott of the Dallas Cowboys, 2016 National League MVP, third baseman Kris Bryant of the World Series Champion Chicago Cubs, 2016 WNBA World Champion and WNBA Final MVP, forward Candace Parker of the LA Sparks, 2015 Major League Baseball (MLB) American League Rookie of the Year, shortstop Carlos Correa of the Houston Astros, Pro Bowl wide receiver DeAndre Hopkins of the Houston Texans, NBA All-Rookie First Team center Joel Embiid of the Philadelphia 76ers and Robbie Rogers, an international professional soccer player who made history as the first openly gay professional soccer athlete to compete in Major League Soccer for the LA Galaxy. Making a cameo appearance in an additional digital campaign film is Bill Self, head basketball coach of the University of Kansas.
"I knew I had to be a part of the 'Create Positivity' campaign because it showcases how creativity and positivity in sport can inspire you and people can relate to sports – it's a common ground where people come together and unite," said Dak Prescott, quarterback for the Dallas Cowboys.
Amplifying the mindset of the Creator featured in the campaign, the film's anthem, "Surfin," which was written and produced by Pharrell Williams and performed by Kid Cudi, is highlighted by key lyrics - "Now I ain't riding no waves. Too busy making my own waves," and culminates with a universal chant, "Making my own waves."
In tandem with, and complementing the message of positivity communicated by this new "Create Positivity" campaign, adidas will kick off the "adidas Unleashed" series. This long-term grassroots initiative was developed by adidas for one purpose: to inject creativity into sport and spark positivity by offering a unique platform in which young athletes can experience sport, creativity, style and personality.
The program brings principles of informality, play and inspiration to otherwise traditional grassroots events and invites high school athletes to share in immersive experiences at five camps this summer: 7v7 (Football), High Performance Championship (Volleyball), LVL3 (Basketball), Elite Soccer Program (Soccer) and East Coast Pro (Baseball).
"adidas Unleashed" will kick off in Los Angeles with a football experience on July 12 followed by volleyball from July 18-22 in Ft. Lauderdale, basketball from July 27-28 in Las Vegas; baseball from August 1-4 in Tampa and soccer from July 30 – August 5 in Chicago.
About adidas
adidas is a global designer and developer of athletic and lifestyle footwear, apparel and accessories with the mission to be the best sports brand in the world. As an innovation and design leader, adidas engineers the best in high-performance products to make athletes better, faster and stronger and creates a range of classic and fresh lifestyle and high-fashion lines.
# # #
Beth Gast
adidas Public Relations
+1 971.234.2214
Paul Murphy
adidas Public Relations
+1 971.234.4266
contacts
Paul Murphy

Football, Baseball, Hockey PR

United States

971-234-4266