Indiana University & adidas Football Unveil Retro 'Candy Stripe' Alternative Uniforms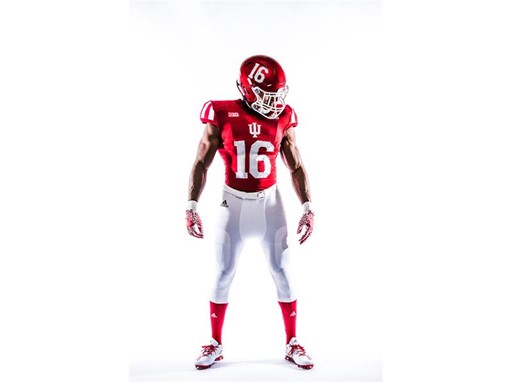 Indiana University and adidas today unveiled the 'Candy Stripe' Primeknit alternate football uniform, which will be worn Saturday, October 15th for IU's Homecoming game vs. Nebraska at Memorial Stadium.
Inspired by the first candy stripe designs that Doc Counsilman and Hobie Billingsley used to better spot their legendary 1960's and 1970's swimming and diving teams at the pool, and later adopted by the 1971-72 basketball team, the retro look was designed in concert between Indiana Athletics and adidas Football to encapsulate the history and significance of the design that ushered in a historic era and created iconic identity for the university.
Combining innovation with style and detailing, the special edition uniform is centered around the iconic crimson and white colors of the Hoosiers' athletic programs. Starting with a crimson jersey, the sleeves are highlighted with candy stripes that pay homage to the aesthetic featured on the Hoosier basketball team's warm-ups. Next, an oversized 'Script Indiana' logo, made popular by being on the back of the basketball warm-up shirts, is highlighted in crimson on the leg of the white pants and offset with crimson socks and white cleats to create a head-to-toe candy stripe theme.
The historic inspiration continues with white classic tackle twill numbers, highlighted with hints of the Indiana state flag. Each number has its own unique piece of the flag, depicting different angles of the 19 stars and torch that represent liberty and enlightenment of the 19th state to join the United States. Additionally, six stars releasing rays of light that embody the state's far-reaching influence are depicted within the design. Topping off the theme on the jersey, the interlocking IU emblem sits directly above the chest plate to amplify Hoosier pride.
Merging historical significance with innovative technology, the special edition retro look is made with Primeknit, a proprietary yarn blend that increases durability and abrasion resistance. Primeknit is the premier compression uniform system, featuring the latest generation of adidas TECHFIT technology, that helps keep players cool and increases range of motion, giving athletes an unrivaled level of comfort and allowing them to perform at their highest levels. The jersey's padlock system secures tension over the shoulder pads, while the bodymap fit adheres to the player, making it difficult for opponents to grab, hold or tackle.
As a tribute to the traditional aesthetic of the Hoosiers football program, a crimson helmet features white player numbers containing hints of the Indiana state flag to match the numbers on the jersey. Additionally, the state flag is incorporated into the TECHFIT baselayer with a torch, stars and oversized Indiana script graphic logo. Finally, the adizero 5-Star 5.0 gloves feature the Indiana script logo atop a crimson carbon fiber pattern. The adizero 5-Star 5.0 gloves feature 4-way stretch mesh for compression fit and GripTack for consistent control in all weather conditions.
contacts
Paul Murphy

Football, Baseball, Hockey PR

United States

971-234-4266