PODCAST: Baseball Coach Jim Morris joins adidas Group's Mark King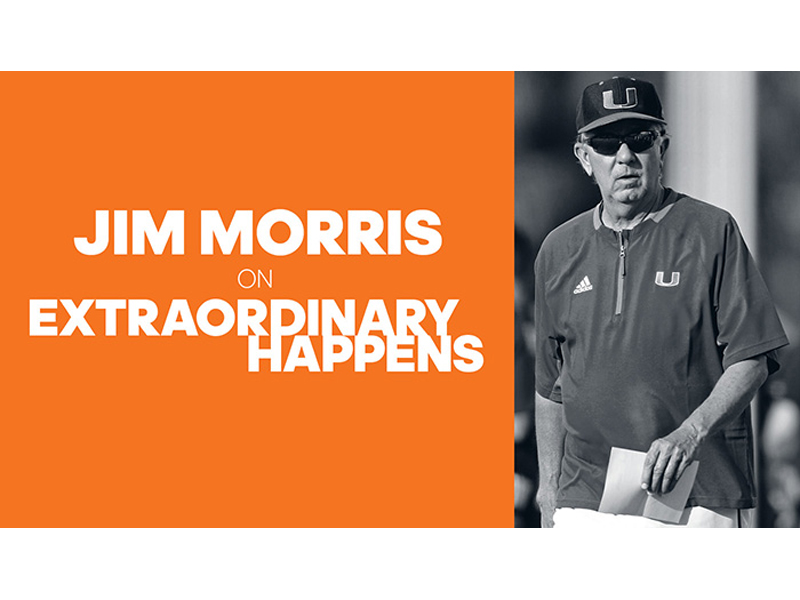 University of Miami Head Baseball Coach Jim Morris joins adidas Group's Mark King on his podcast Extraordinary Happens. Jim's first coaching job was more than 40 years ago and today; he continues to be one of the most legendary baseball coaches in all of college athletics. He's a three-time national coach of the year, four-time ACC Coach of the Year and leader of two national championship teams. Jim's impact on the game – and the players he's coached – is truly extraordinary.
"You have to plan for [success] and you have to be prepared for it. It's like luck. Luck is taking advantage of someone giving you an opportunity. You have to be prepared for it and jump on that and be ready for it." –Jim Morris
Ep. 16: Jim Morris on Extraordinary Happens
"If you look at what Jim has done on the field as a coach developing players – over 150 major league baseball players over the last 40 years have played for him. The reason that we have this podcast is to introduce to our listeners to people that have done extraordinary things and we try to get from them what made them extraordinary … [his] formula was pretty basic: work harder than everybody else, have a plan and focus on winning." –Mark King, adidas Group North American President
"[Baseball] definitely changed my life. It gave me a college education. It gave me a chance to go to grad school and get a job like I've gotten. I can see that with our players … these guys get a chance to make a tremendous impact and are given an opportunity to be successful. [Baseball] teaches them how to discipline themselves and how to do the things you have to do to win. That's carried over into business … those things give you a head start in life." –Jim Morris
Extraordinary Happens: Competing in Sports, Business and Life, hosted by adidas Group's Mark King, is a podcast featuring compelling stories behind the people shaping sports and business today. Episodes of Extraordinary Happens are available on iTunes, Stitcher and SoundCloud.
contacts
Maria Culp

Corporate Communications

United States

971-234-4003