Texas A&M & adidas Unveil New Special Edition 'Aggie Ice' Uniforms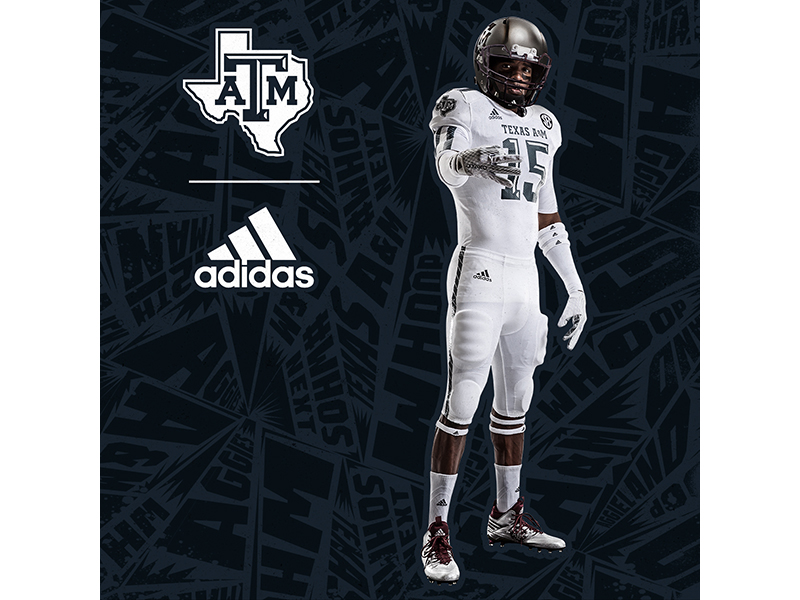 Texas A&M and adidas today unveiled the 'Aggie Ice' Primeknit alternate football uniform, which will be worn by the Aggies on Saturday, November 21st, when they take on Vanderbilt on the road. Designed in collaboration with Texas A&M Athletics, this special edition uniform blends style and innovation to create a unique and signature alternate look for the Aggies.
Highlighting the all-white theme, the 'Aggie Ice' Primeknit alternate uniforms feature metallic gray and reflective silver accents from head to toe. Starting from the top, the classic Texas A&M logo is showcased in black chrome and seamlessly clear-coated into the glossy finish of a reflective silver HydroSkin® helmet that was designed exclusively for this uniform by Hydro Graphics Inc. (HGI).
Next, the Texas A&M logo is highlighted in reflective silver with carbon-fiber detailing and set within the metallic gray carbon-fiber 'Lone Star Logo' on the shoulder pads of the jersey. That same pattern is carried over to the player numbers, which are highlighted with reflective silver carbon-fiber outlines and set within a base color of metallic gray with carbon-fiber detailing. Rounding out the gray and silver accents, the "Texas A&M" moniker on the chest, along with the stripes on shoulder pads, baselayer and pants are all featured in metallic gray with carbon-fiber detailing.
Made with a cutting-edge, proprietary yarn blend that increases durability and abrasion resistance, Primeknit is the premier compression uniform system, featuring the latest generation of adidas TECHFIT technology. Primeknit helps keep players cool and increases range of motion, giving athletes an unrivaled level of comfort and allowing them to perform at their highest levels. The jersey's padlock system secures tension over the shoulder pads, while the bodymap fit adheres to the player, making it difficult for opponents to grab, hold or tackle.
Further infusing the "Aggie Ice" theme, the white TECHFIT baseslayer and adizero 5-Star 4.0 gloves feature a metallic silver oversized graphic of the 'Lone Star Logo.' The adizero 5-Star 4.0 gloves feature 4-way stretch mesh for compression fit and GripTack 2.0 for consistent control in all weather conditions.
For more information and images of Texas A&M's new 'Aggie Ice' Primeknit alternate football uniform, please visit
http://news.adidas.com/US
and follow the conversation on Twitter and Instagram via
@12thMan
,
@AggieFootball
,
@AggieFBLife
,
@adidasFballUS
and
https://www.facebook.com/adidasfootballus
#12thMan
#teamadidas
.
contacts
Paul Murphy

Football, Baseball, Hockey PR

United States

971-234-4266