adidas Football Launches the all-new Predator 18+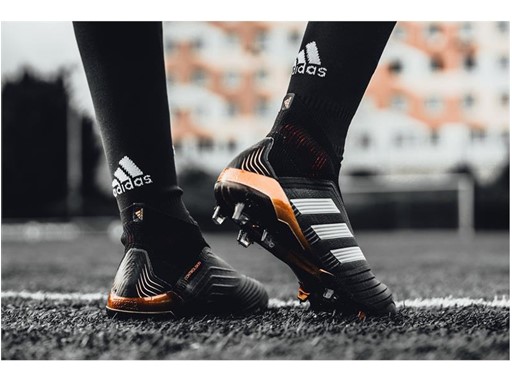 - New silo available as part of the Skystalker pack in stadium, cage and street versions –
- Innovations include a hybrid stud tip configuration and new CONTROLSKIN -
- Boot to be worn on-pitch from today by the likes of Paul Pogba, Ivan Rakitic, Dele Alli and Mesut Ozil -
Herzogenaurach, [22 November] – adidas Football has today re-launched the game's most iconic boot, the adidas Predator. The Predator 18+ is released as part of the Skystalker pack - alongside the X and NEMEZIZ silos – and takes inspiration from iconic Predator models while being brought up to date through modern tooling and innovation.
The Predator 18+ features a black, red and gold colourway and includes an updated Primeknit SOCKFIT COLLAR, engineered to naturally expand to the foot's shape while ensuring a supportive fit. The Primeknit material includes a layer of CONTROLSKIN for optimal grip in any condition alongside an ANATOMICAL UPPER which mimics the heel's shape to provide ultimate lockdown.
A PURECUT LACELESS system ensures maximum surface control while a FORGED KNIT integrated midfoot support structure creates medial and lateral stability to support complex movements. An updated CONTROLFRAME with high performance polyamide layers is designed to stabilise movement and a new hybrid stud tip configuration amplifies rotation and traction. A full length BOOST™ midsole provides energy return with every step.
Sam Handy, VP of Design for adidas Football, said: "When designing the Predator 18+ we wanted to create the most innovative boot on the market while staying true to the very ethos of what made the Predator such an iconic boot. We wanted to create a boot for those players who control the game through a killer touch or defence-splitting pass. The new Predator will provide athletes such as Paul Pogba and Dele Alli with the tools they need to maximise their own creativity; such as the introduction of a CONTROL skin and a new hybrid stud configuration to support the dynamic movement required for professional athletes."
The Predator 18+ is also available as a cage shoe. It features the same SOCKFIT COLLAR construction, PURECUT LACELESS upper and CONTROLSKIN as the on-pitch boot; along with a full length BOOST™ midsole and traction studs.
Taking the shoe from the stadium to the street, the Predator is also available as a lifestyle sneaker. It features a KNITTED upper and the iconic collar shape of the cleat show, combined with full length BOOST™ tooling in the sole.
The latest Predator boot will be worn on-pitch from today by the likes of Paul Pogba, Dele Alli Ivan Rakitic and Mesut Ozil.
For further information please visit adidas.com/football or follow @adidasfootball on Instagram or twitter to join the conversation.
contacts
Stuart Gower

Global PR Manager, adidas Football

Germany

-