adidas Run Your Crew Reveals Celebrity Crews and Block Party Line-up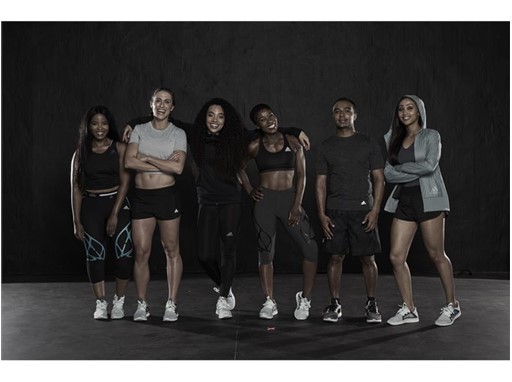 South Africa, Monday Oct. 31, 2016 –adidas South Africa has revealed four South African celebrity crews participating in the highly anticipated Run Your Crew, the unique, inner city crew run, redefining the way of running.
The four celebrity crews consist of some of the country's most beloved TV, radio and online personalities:
The City Sixers
The City Sixers are captained by two of SA's favourite sons, Maps Maponyane and Lunga Shabalala. Both TV presenters and models, Maps also finds time to fill his days as an actor, designer, businessman and philanthropist. Joburg born and raised, these stylish gents have built their profile by staying busy and knowing where the best parties are at.
So if you miss the guys on the route – you'll know to find them at the Block Party because The City Sixers run together and The City Sixers party together.
IOL (In Our Lane)
Amanda du Pont, a well-known actor, television host, voice over artist, model, MC, businesswoman and long-time friend of adidas has taken up position as head honcho of IOL. Right beside her is Mapule Ndhlovu, Woman's Health Next Fitness Star Winner 2016.
This crew of health-conscious fitness enthusiasts are ready to push their energy limits at RYC. They train together daily, to ensure RYC is more of walk in the park than a run in the city.
The Stripes
This power crew is made up of 5fm DJ, Tumi Voster; fashion and lifestyle bloggers, Twiggy and Lulama; Instagrammer Lindiwe; NYC based fashion writer, Kenny and fashion blogger and vlogger, Keagan Carlin.
A team of very well-connected, like-minded women you'll no doubt be seeing and hearing a lot of social noise from on the night of RYC.
#LetUsRun
SA biokineticist, Survivor SA Maldives runner-up and adventure enthusiast from Joburg, Letshego Zulu, captains #LetUsRun, a crew in peak physical condition for RYC with 2 extreme trail runners, 4 Comrades runners and 5 Two Oceans Ultra Marathon runners, RUN is exactly what they do. This crew is all about adventure and the idea of not knowing the route before the night of RYC is exactly that.
RYC Block Party
Run Your Crew has a unique format which requires you to choose your running crew, and on the night, choose your distance of either 4km, 8km and 12km as well as your route. As long as you start together and finish together. Participants can look forward to running alongside the above mentioned as well as global crews.
With all crews finishing together at a block party hosted directly at the finish line, runners will be welcomed by a festive and engaging experience which takes them from the run to the party. The impressive live acts and DJ line-up includes: DJ Zinhle, Desmond & the Tutus; Plaat Japie, Khuli Chana, Petite Noir, Kid Fonque, DJ Kent, Da Capo and DJ Lag.
Join the adidas Runners community and the RYC celebrity crews at Runbase, Braamfontein, during the month of November for weekly night runs followed by social crew evenings on the Runbase deck. Follow the schedule on
Facebook
.
contacts
Tebogo Kgosi

Senior Manager City Activation & Newsroom

South Africa

-

-