adidas Originals x Studio 88 'Only @' Promotion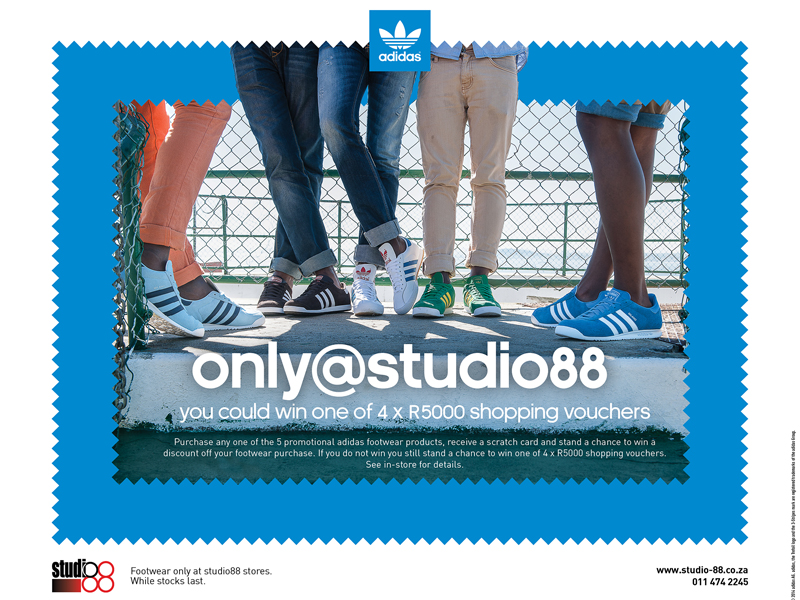 This June
adidas Originals
embarks on its latest in-store giveaway at
Studio 88
stores around the country. "Only @" gives customers the opportunity to purchase any one of five promotional footwear products – exclusively available at Studio 88 – and receive a scratch card to win a discount of up to 100% off their footwear purchase.
This marks a move away from the traditional approach of selling the same product available at all stores nationwide, and instead opts to make small amounts of specific shoes available at select stores around the country.
"adidas Originals prides itself on exclusivity and creating products which can't be matched anywhere else," explains Bradley Stern, Senior Brand Marketing Manager, adidas South Africa. "With 'Only @' we hope to further that vision by offering consumers a range of shoes and opportunities to win that are only available at Studio 88."
Loren Lennox, Brand Equity Administrator for Studio 88 says:
"We are excited to have been given the opportunity to be the only store in the country to sell these exclusive styles, and are looking forward to giving our customers the chance get more than they bargained for by shopping with us."
The collaboration between adidas Originals and Studio 88 will commence on 30 May 2014 and will continue until 30 June 2014 in Studio 88 stores countrywide.
For accompanying imagery and more information on adidas-related news visit the adidas
News Stream
Follow adidas Originals on Instagram
adidasZA
and on Twitter
@adidasZA
Unlock
the adidas vault
to find out more about the brand's heritage
contacts
Fabrizia Degli Esposti

Brand Marketing and PR Manager

South Africa

Fabrizia.Degli.Esposti@adidas.com

27 (0)21 442 6200